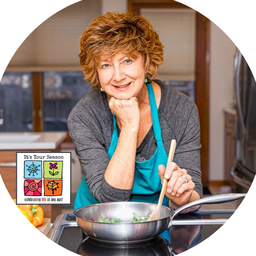 We Are Celebrating Life at Any Age! These IYSL lifestyle podcasts are you, for you, from people like you. We all share a lot as we mature in life and the journey is made even more special when we can celebrate it with someone else. In the LIVING WELL series, my guests will share their stories of being ordinary people, like you and me, and doing the extraordinary. Pivoting, building businesses, creating, renewing, and rewarding themselves by Living Well. We'll also remind ourselves about the importance of living and being in awe. They will share their personal lives, their resilience, courage, maybe a failure, and most importantly, getting back up. My guests are willing to help others with their experiences, live life with great meaning, and give back with their hearts. Eating Well - As a spin-off for promoting healthier lifestyles (at any age!) I will share my own passions – beekeeping and plant-based lifestyle tips in the EATING WELL series. I'll be interviewing other plants-first fanatics too! Plant-rich, plant-slant, plant-forward or whatever you want to call it, let's just eat more veg! After all, at IYSL, we are about mind-body wellness, nature, and the natural, living soul-fully, and being social and out and about.
Episodes
Wednesday Nov 02, 2022
Wednesday Nov 02, 2022
Want to eat more plants? Don't know where to start? What are some suggestions that might be helpful?
Join me today for a list of items we, the Boesens, usually have on hand in our kitchen, fridge, freezer, and pantry.
Remember! Your taste buds aren't mine, but some ideas can be helpful to move you forward with eating more plants and less meat! Let's get started!


Specific product mentions (no advertising, just personal preferences)
https://www.pastificioboulder.com/ - ancient grain shaped (extruded) craft pastas - winner of the Good Food award
Barilla high protein pastas
Better than Bouillon Not Chicken Broth
Final list of produce/product mentions:
Vegetables
Potatoes
Asparagus
Grape Tomatoes
Tri-color peppers
Sweet Kale Salad Mix
Carrots – try new colors!
Yams – Sweet Potatoes
Fruits
Bananas
Berries
Apples
Avocados
Pomegranate
Spinach
Aromatics/Herbs
Garlic
Shallot
Cilantro/Parsley
Black and White Sesame Seeds
Beans/Legumes
Canned beans
French lentils
Frozen Soybeans
Chickpeas
Grains
High – protein pastas
Boil n Bag Brown Rice
Multi-grain/seed off the shelf
Multi grain GF Ramen noodles
Other
Canned tomato soup
Pasta sauce
Pasta – higher protein brands
Nutritional Yeast mixes
Umami triad – Marmite, Soy Sauce, Maggi, + Porcini powder (extra points)
Better than Bouillon Not Chicken
Not Beef bouillon cubes
KUB-Or Herb de Provence
Other Products mentioned
Garlic grater -Aimee's French Market
Soft skin peeler
Teflon Baking Sheets - https://amzn.to/3RByYwM
Faux-meat crumbles – low fat, high protein
If you enjoyed listening to this podcast, please be sure and click to subscribe and receive the latest podcast and more info about Celebrating Life at Any Age!
For my website, visit:  www.itsyourseason.life
Discover my books and downloads: www.itsyourseason.life/store and on
Amazon – Lisa's Author Page


Join My Community!
Follow me on:
Facebook - www.facebook.com/itsyourseason.life/
Instagram - www.instagram.com/itsyourseason.life/
Pinterest - www.pinterest.com/lisaboesen
Youtube – ItsYourseason.life
Podbean - https://itsyourseason.podbean.com/
To sign up for my monthly newsletter filled with fun tips, recipes, and more:
https://itsyourseason.life/its-your-season-newsletter-sign-up/
For more learning tools on how to become more plant-based visit
https://itsyourseason.life/recent-blogs-media/plant-based-workshops/ 
Thank you again for sharing this adventure of eating more plants!